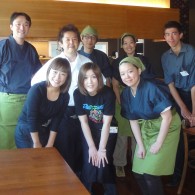 Welcome to TANTO Japanese Dining
We are an "IZAKAYA" style casual dining bar-restaurant, which means we offer a variety of small "TAPAS" dishes to share with your partner/companies.  There is no rule of ordering an entree/main and you can order whenever you need more dishes.
Alternatively, if you do not like share your dishes and want have "entree/main" ordering, we offer a "GOZEN" which means personalized courses. You have a choice of a main dish as well as a combination of small portions of our popular entree dishes. Please check details on our menu.
"TANTO" means "a lot of food" in Japanese, so we really wish you will enjoy and be satisfied with our dishes and have a wonderful new dining experience.
Mitsukuni SHIBUYA
Opening/closing date 2020
| | | |
| --- | --- | --- |
| Waitangi Day | Wednesday 6 February | Closed |
| Good Friday | 10 April | Closed |
| Easter Saturday | 11 April | Closed |
| Easter Sunday | 12 April | Closed |
| Easter Monday | 13 April | Closed |
| Anzac Day | Monday 27 April | Closed |
| Queen's Birthday | Monday 1 June | Closed |
| Labour Day | Monday 26 October | Closed |
| Christmas Day | 25 December | Closed |
| Boxing Day | 26 December | Closed |
| New Year's Day | 1 January 2020 | Closed |
| After New Year's Day | 2 January 2020 | Closed |
Opening Schedule